Empty Lighthouse is a reader-supported site. This article may contain affiliate links to Amazon and other sites. We earn a commission on purchases made through these links.
Unfortunately for fans of CWTV's The Flash, the mid-season finale is upon us.
In "Running to Stand Still," episode nine of season two, Barry and the team find themselves facing a terrible trio of past villains who are up to mischief on Christmas.
The Weather Wizard teams up with Captain Cold and the Trickster after helping them escape from Iron Heights. Barry tries to stop him but he and the team fall victim to a very dangerous game orchestrated by the group of evil doers. The team is forced to find a way to keep Central City during Christmas.
CWTV also introduces Wally West, however, he is introduced in a manner that differs from the original comic books. West is seen as the long lost brother of Iris who was previewed in an earlier episode this season.
Wally winds up at the West's front door shocking Joe but not so much Iris who already knows he exists.
The mid-season finale began with Wells racing to find the gun that will stop Zoom. Zoom catches up to him and Wells tells him that Zoom can kill him, however, his daughter is innocent and should be left alone.
Zoom is quiet and Wells coaxes him to say something but all he says is "Merry Christmas." Iris and Joe are trying to find the perfect gift to get Barry for Christmas.
In doing so they go over some family history and it leaves Iris' mind to wander about their family.
Meanwhile, Patty and Barry are getting very comfy and Iris walks in. Things are awkward for a bit but when Patty leaves, Iris tells him that she is really happy for him. Barry believes that there is a way to be happy. That is until Iris breaks down into tears and tells Barry that Francine revealed Joe has a son.
Barry asks his name and Iris tells him it's Wally West. Iris is feeling remorseful every time she looks at her dad.
Barry tells her she needs to tell Joe and it doesn't have to be done alone, he will be there with her. Then, snow begins to fall in Central City.
Caitlyn and Jay are working on a way to stop Zoom and close the portable when Cisco jumps in and asks them to get a room. He wants to know if they think Zoom has taken the holiday off. Caitlyn ends up inviting Jay to Barry's Christmas gathering.
Wells walks in when Cisco is about to leave and surprises him completely. Cisco asks him if everything is alright and he replies "why wouldn't it be." Meanwhile, at Iron Heights, Mark Mardon a.k.a.
the Weather Wizard is busy breaking Captain Cold and the Trickster out of prison.
Barry and Joe are interrupted by the jailbreak and Joe thinks that with Mardon back on the scene, Patty might not be thinking clearly. Just then, Barry comes into the room with Patty and she continues to rattle off facts about Mardon. She tells Barry that she can't discuss it with him right now.
He tries to at least reason with her to think a bit clearer but she is hellbent on revenge. Mardon, the Trickster and Captain Cold gather around to plot the death of the Flash.
Snart says that it hasn't gone well but Mardon believes that three against one will work better. Mardon has also seen Zoom take the Flash out and believes that he is vulnerable.
The discussion goes awry pretty quickly however, Trickster manages to talk them down. Cisco and the rest of the crew are racking their brains to find out how they will be able to take out the three escapees. Wells walks in and asks Barry why he messed with the timeline. After they decide on a plan to create a fix, Wells who is clearly not himself tells Barry that he is okay when Barry asks him. Barry and Iris meet with Joe to break the news.
Iris takes full responsibility in telling Joe that Francine was pregnant when she left them. Joe is crushes and breaks down but asks if Francine had the baby.
Iris tells Joe that she did and his name is Wally.
Joe tells both Barry and Iris that he has to get to work and when Iris tries to talk to him he asks them to let him sit with it.
Barry has the responsibility of calming Iris down but when they arrive at home there is a special visitor and his name is Leonard Snart.
Snart is having cocoa from the mug and Barry immediately rushes to ask him if he is out of his mind for breaking in his house. Snart threatens Iris' life and Barry is forced to let him go. They ask him why he is there and Snart gives up the plan. Snart says that there is no money involved she he is not in with them.
He asks him to tell them where they are but he tells them that he is just a secret Santa. Barry asks Snart for his help but Snart says he is not interested in being a hero.
Barry tells him he is doing a pretty lousy job at being a villain.
Barry and Joe meet at STAR Labs and Joe tells him that he knew something wasn't right when Iris was on her way to the hospital when she was younger. He wants to know why he didn't have that feeling for his son and said that he could have went after Francine but he was too busy protecting himself. Joe feels guilty for not being a father to Wally and and is really taking it very hard.
Barry tells him that he has been there for him everyday since he met him. He said that Joe would have done the exact same thing for Wally had he known.
Patty is interrupted by Singh and the both are interrupted by the Trickster who broke into the Central City PD and STAR Labs feed. He threatens the Flash and the department is rushing to the job but when Singh calls out for Patty, she is nowhere to be found. Wells helps Cisco and the rest of the crew pinpoint Trickster's location and Patty is already there.
The Flash runs in and asks Patty what she is doing there. After she answers, they are surrounded by dreidels made of C4.
Patty and the Flash are surrounded and he can't run them to safety, however, he manages to levitate them out. Barry learns the story of Patty's father who brought the deposits to the bank where Mardon shot him, instead of her. She wants more than anything to kill Mardon and she confesses that she met a great guy and doesn't know if it feels real. Barry tries to reason with her but he can't.
Later on he tries to reach her as Barry but keeps getting the voicemail. Barry is presented with the weapon that stopped Mardon and Jay and Caitlyn give him a bit of advice on helping Patty in her time of need.
The Trickster is posing as Santa and giving out gifts that are teased with a surprise.
Then, out of nowhere, it is revealed that Wells is working with Zoom in order to keep his daughter safe. he gives Wells one more day before to complete an unknown task.
Mardon sets off an alert at STAR Labs and they trace it to the tree lighting at Central City. The Flash finds Mardon on the roof and when he threatens to use the wand, Mardon flies away. Barry races after him and manages to stop him in his tracks. However, the Trickster sets in and rolls over a box with a bomb then tells the Flash that he has handed out 100 of them. They tell Barry that there is no way for him to get to all of them.
The Flash begs them not to do it and Mardon says he has to stand there and let Mardon end him. If he does, the children are safe, however, if he doesn't the boxes will go off.
Barry surrenders the wand and the pain begins. Wells says there is a way to locate all of the bombs and stops them and tells Cisco that he will be using a drone to help take the bombs out.
Jay, Cisco and Wells begin going door to door to gather up all of the boxes. Barry is continuing to be tortured by Mardon with delight on the face of the Trickster. The plan is to change the dimensional frequency of on bomb, giving it a magnetic effect and dragging all of the rest of the bombs to another dimension.
Mardon tells the Trickster to finish Barry and just before he can do so, Barry gets word that the bombs are gone and takes both the Trickster and Mardon down.
Patty arrives and the Flash tells her it's taken care of they can't hurt anyone else. She traps Barry with a metahuman device and takes aim at Mardon.
The Flash pleads with Patty not to kill Mardon and Mardon tells her she doesn't have it in her. Patty says that she does but the Flash tells her that if she goes to prison she will lose everything all over again. His words work and Patty ends up taking Mardon under arrest. Joe meets with Barry and tells him about his talk with Francine. He says it went really well and he realized how much he needed to forgive her. Joe hadn't met Wally yet but he will.
However, Joe still gives Barry the watch his grandfather gave him and calls him his son. Barry proudly takes the watch and looks on as Wells works on something at STAR Labs. He plays out a dialogue with him telling him that he realizes that he isn't the other Wells, however, he has so much hate that he has to give it up.
He forgives Wells for everything. Just then Wells looks over and asks him if he needs something. Barry says no and invites him to the party however, Wells says he can't celebrate without his daughter.
Back at the house, Jay and Caitlyn hand the mistletoe and share a kiss. Patty arrives and Barry tells her that he was really worried about her. She says that she wants to tell him about what has been going on.
She presents him with a matching Christmas sweater and reveals that she is Barry's girlfriend to Joe. There is another knock at the door and when Joe opens it, he sees his son Wally who introduces himself.
Joe and Iris introduce themselves and Wally thinks about leaving but Joe invites him in to the celebration.
At the very end of the episode Zoom tells Wells that his time is up and Wells says he knows that Zoom wants Barry to get faster and stronger. He wants Barry to become more full of speed force so that he can absorb it all when he takes Barry out.
Wells asks to see his daughter before he agrees to help Zoom carry out the plan. Zoom brings her to Earth-1 for a split moment and takes her away. Wells then agrees to help Zoom steal the Flash's speed.
"Running to Stand Still" was a pretty explosive mid-season finale for CWTV's The Flash. While fans could see a lot of the surprises in this episode, others reveal big things for the rest of the season.
It will be interesting to see what the second half of the season has in store for Barry and the rest of Team Flash.
Fans who want more "The Flash" extras can head over to The CW to find out more about their favorite super hero and his team.
Photos that sum up tonight's episode.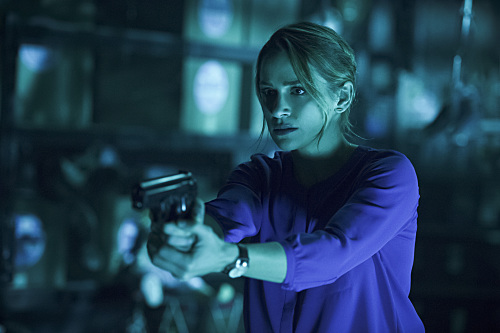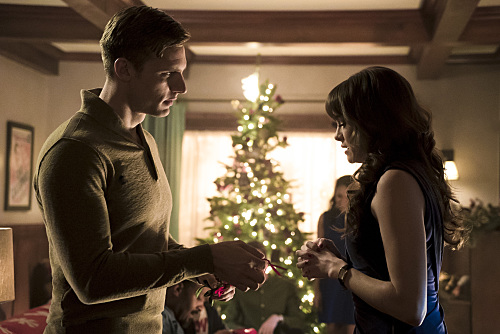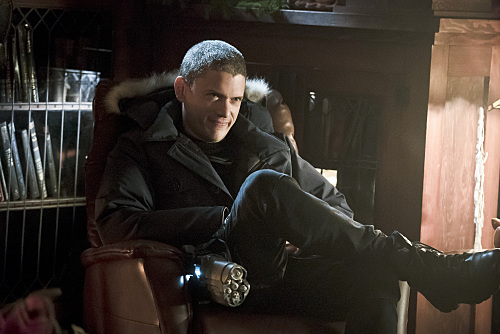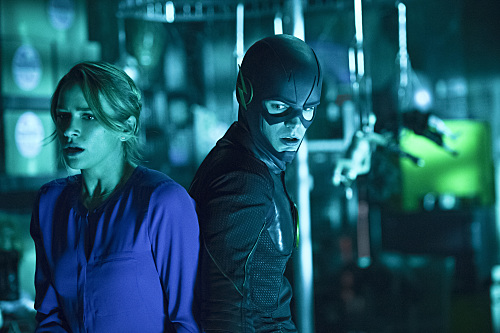 Wanna read more on this? Check these out: The Flash Season 3 Episode 21 Review And Recap: Barry Loses His Memory (more); The Flash Sizzle Reel Shows What's To Come In Final Season 3 Episodes (more); The Flash & Arrow Season Finale Episode Descriptions Tease Major Showdowns (more); The Flash Season 3 Episode 20 Review/Recap: Savitar's Identity Revealed (more).
And here are some more related articles: The Flash's Killer Frost Actress Says Her Character Is Important To Savitar (more); The Flash Season 3 Episode 19 Review/Recap: Barry Goes To The Future (more); Manu Bennett Returning As Deathstroke In Arrow TV Series (more).
A few more: DC's Legends of Tomorrow Season 2 Episode 17 Review/Recap: Changing History (more); The Flash Season 3 Will See Familiar Faces Return In Upcoming Episodes (more).