Empty Lighthouse is a reader-supported site. This article may contain affiliate links to Amazon and other sites. We earn a commission on purchases made through these links.
Welcome to the Empty Lighthouse Travel Website Awards. In this section, we list the winners of the Empty Lighthouse Travel Website Awards for luxury travel websites.
On this page, you'll find the most exciting, interesting, and engaging luxury travel websites online. Each of these sites has something special, and they're all worth a look.
Our readers have nominated these sites for their quality and content, including photos, tips and tricks, and more. We're certain that once you start reading them, you'll be hooked.
Vicki and Gavin are a couple from the UK, living in Australia who have visited 39 countries across the world. They successfully combine their full-time jobs and a passion for travel.
Our readers loved their gorgeous photos and detailed descriptions. There are great tips and reviews of different places. One reader wrote about their Africa articles, "Sub-Saharan Africa travel can be really complicated, and this site makes it much easier."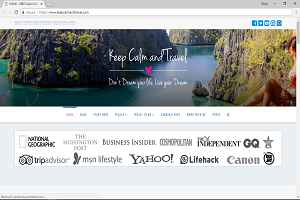 Clelia Mattana is an Italian travel and lifestyle blogger who inspires others to live their dreams.
Keep Calm is her blog where you can find amazing stories and photos about places she has visited and inspiring travel ideas and tips.
Our readers love this blog because it's like reading a top travel magazine, with some of the most gorgeous and professional photos you can find, as well as comprehensive, detailed articles.
Travel Greece, Travel Europe is created by Marissa Tejada, an American award-winning journalist, and travel writer.
It is full of stories about the destinations across the Europe and Greece, travel insights, cultural travel, luxury travel, hotels, reviews of hotels and restaurants, and much more.
Our readers loved this site because of the mix of politics, travel, and current events -- such as an article on traveling to Lesbos during the refugee crisis.

We weren't sure whether to put this one under luxury or budget, because it follows a woman named Tam doing everything from camping to high end cruising, but here it is. Tam used to travel a lot with her family but now, she explores the world solo. She loves to travel the ocean and shares her exciting adventures, stories about food, luxury hotels or scuba diving.
You can enjoy her fantastic photographs, especially those wildlife and underwater. This blog is a great place to find inspiration to go out and see the world.

Pauline Travels is a great and inspiring blog for women who want to travel solo.
It brings Pauline's personal travel stories about the places, people, and adventures from all over the world.
She combines her trips with a regular job and wants to show to the others that is possible and inspire them to do the same.

Okay, this one may not apply to all of our readers, but we're totally hooked. Montecristo Travels is all about traveling with a small dog.
If you've ever traveled and missed your dog (that's definitely us), you'll love MT. The blog is written from Montecristo's perspective, and what could be more luxurious than a dog in a Louis Vuitton trunk! The blog includes helpful information for anyone who wants to travel with their dog.

Yukti is very passionate about traveling and exploring the world.
She believes that "of all the books in the world, the best stories are found between the pages of a passport". Through this blog, she shares exciting stories of luxury places such as Dubai and Mykonos.

The Tourist Meets Traveler is a blog run by Robyn and Annemarie, mother and daughter who share their passion for travel.
Whether you are interested in couple or family travel, you can find a bunch of information about interesting destination across the world, cruises and more.
Krazy Butterfly is traveling her way around the world and sharing her luxury experiences. Expensive hotels and restaurants, cruises from dreams, and much more exciting stories you can enjoy reading on this blog. Our readers especially loved the detailed reviews.
Traveling solo or with friends, hiking on mountains or visiting popular tourist destinations, Raksha enjoys exploring new places and meeting new people.
She also loves taking pictures and capturing moments, trying new cuisines and sharing her fantastic adventures on this blog.
Miss Barlow is a blog about Lizzy's travel adventures around the world.
She reviews the highest of high end hotels, and always includes beautiful pictures and vivid stories. One of our readers nominated the site because he has Crohn's disease and found her stories and tips to be extremely helpful.
Did you know you could travel luxuriously in a container ship? This site has some of the most interesting travel content we've seen.
The author mostly focuses on Greece and Europe, but there are articles on glamping, and more -- and there's even a series on traveling the world in a container ship (it's much nicer than you think). Don't miss this one!
Mark and Paul, full-time travelers and bloggers are behind Anywhere We Roam. They share their travel experiences, stories about people they have met and the lessons they have learned.
Tips and tools for building a new travel experience could be found here too. All those adventures and amazing photos will inspire you to start making your own.

Binny writes about her amazing travel experiences.
Our readers loved her top moments, such as the time she had afternoon tea with giraffes, and ascending the Burj tower in Dubai. Binny enjoys food and shares her impressions about restaurants and receipts for tasteful dishes.
The Suitcase and Heels is a female travel & style blog run by Melissa. She finds luxury ways to travel at a great value.
Her blog follows her adventures traveling around the world, meeting new people, tasting local food, and being stylish at the same time.
Who wouldn't get hooked on a blog that's all about food all over the world. The pictures in this blog are so incredible that you feel like you're eating the food yourself.
Harpreet's Wanderlust is created by a Kenyan woman who uses every opportunity to travel. She shares her travel adventures and absolutely gorgeous photos, as well as impressions on books or delicious food. Our readers love her pictures and amazing descriptions.
Marco Zannin is a passionate traveler and explorer who writes about destinations around the world that he has visited.
He discovers the most beautiful places that are not on tourists' lists and shares amazing stories and photos. He also provides travel resources and helps others to make plans for their own travels.
HDYTI is an award winning blog about travel experiences, and delicious food. There are reviews, tips, and trip reports about places you will rarely read about anywhere else.
Krupa and Vishal are an Indian couple who started Map Camera Travel, a personal blog to share their travel stories to beautiful destinations in India and all over the world.
They give some useful tips and ideas for travel aiming to encourage others to reach their own amazing travel goals.
Our readers loved the tips and tricks, like a guide to international SIM cards.
Ghoomleyaar is a blog of experienced travelers who share information on travel destinations in India, Singapore, Dubai and Europe to help others to make their travel plans easy.
The videos about travel, food or lifestyle, stories about the destinations, hotel reviews and much more can be found here.
The Curious Pixie a lifestyle and travel blog started by Sima. Here you can find fascinating stories about her travels to Europe, Africa, and North America.
Sima also writes about food, museums, theatre, and events she has visited. Whether she shares adventures with or without kids, they will inspire you to find your own. Our readers love it because of the beautiful photos and inspiring stories.
The Hands of Colors is a blog where you can find fascinating travel stories and time-lapse photography from India and Thailand.
This blog is full of useful information, travel guides and ideas to discover the major cities all over Europe.
Although it has both budget and luxury travel options, even the budget options are pretty high quality.
It is founded by Travel Europe Company that provides online hotel direct booking services through an easy-to-use interface with online credit card secure payments.
This travel blog, created by a family, is filled with fantastic stories from all over the world: high mountains, beautiful cities, well-known and remote places.
It inclues absolutely amazing photos that inspire people to start planning a new adventure. This is another one that combines both luxury and budget experiences.

Where in the World is Kate is a travel blog about travel adventures of a single woman who travels solo.
Here you can find travel stories and photos of fascinating destinations, together with travel and saving budget tips and much more. Kate's goal is to enjoy her trips and to inspire others to take their own journey.
Charlotte Anne's blog is a place where she shares her travel experiences and stories about the cultures she has discovered, local food and drinks, festivals, and much more.
She follows her dream and wants to encourage others to go out and find their own adventures. Our readers love the travel guides and the beautiful food pictures.
World Travel Bug is a blog about smart, cultural, luxury travel and travel photography.
Mihaela shares her travel experiences that are a mixture of luxury, locals, cheap meals and everything that helps to understand the local culture. She does extensive reviews with beautiful pictures.

Crazy Wanderer is a blog for people over 35.
Pankti Shah wants to motivate them to travel more through writing about her adventures. Here you can learn more about how to travel solo, where to go, how to meet people and enjoy your life.
Travel Notes and Beyond is a place where you can find a lot of ideas for your next trip.
The site includes stories about exciting destinations with a focus on other people's culture, history or food, and great photos will impress you and inspire to start your trip. Our readers loved the amazing photography.
Paulina is a quite an adventurer! And she does some pretty cool things. For example, she has gone boat hitch-hiking from Canary Islands to Cape Verde.
Her travels are eco-friendly, and include hiking, boating or cycling. This blog is a place where all people can find stories about her fantastic journeys or recommendations for destinations or accommodations.

This is a travel diary of a guy who enjoys his trips -- and even more, his food. There are so many amazing food pictures from all over the world, that this blog will get you addicted immediately.
The Travel Diaries is a blog run by Srikanth who enjoys discovering both India and faraway destinations. He shares his travel stories and beautiful photography with other travel enthusiasts.
Wanna read more on this? Check these out: Road Tripping Tips for this Thanksgiving (more); Looking To Travel Over The Holidays? Europe May Be The Place For You (more); Why Asia Should Be Your Top Destination This Winter (more); Cruising: Do's and Dont's (more).
And here are some more related articles: Scared of Flying? How to Relax and Fly Like a Pro (more); Maintaining a Healthy Lifestyle by Picking Travel Destinations (more).