Empty Lighthouse is a reader-supported site. This article may contain affiliate links to Amazon and other sites. We earn a commission on purchases made through these links.
With Weezer's tenth album, the self-titled album dubbed The White Album coming Friday, Andy ranks the band's catalogue from worst to best and everything in between...
9. Raditude (2009)

The sound of a band sucked dry of all inspiration, Weezer's 2009 effort (if you can call it that) Raditude had both a boneheaded album title as well as a corny album cover. But what hurt most was the vapid, mall punk found on the record.
Where Weezer's Green Album could be called "mall punk," Cuomo forgot to bring good songs to the fray this time around.
Add to that a vacuous duet with the rarely-brilliant rapper Lil Wayne and it seals the deal: This is nowhere near anything close to "rad" and the only truly terrible Weezer album.
8. Weezer (Red Album) (2008)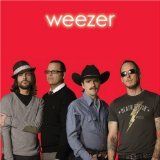 The third self-titled Weezer album (the forth self titled Weezer album drops Friday) found a newly-mustachioed Rivers Cuomo sharing his band leader role with a handful of songs sung by guitarist Brian Bell, bassist Scott Shriner and drummer Pat Wilson. Reaching for the role-swapping salad days of the Beatles, the Red Album instead found Weezer in a total transitional period.
Only "Heart Songs" ranks among the classics of the Weezer cannon with Rivers cataloging the songs that affected his adolescence.
7. Hurley (2010)

Another head-scratcher of an album cover (really? the dude from "Lost"?) Hurley found Rivers now teaming with a handful of professional songwriters such as Ryan Adams and Dan Wilson ("Closing Time" anyone?) with a mixed bag of results.
The production is punchy and loud with the songs teetering between profound "Run Away" and dumb "Where's My Sex?" While most fans were nervous about Rivers working with outside writers, the results were neither terrible nor fantastic but somewhere in the middle.
6. Make Believe (2005)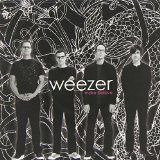 While an enormous hit solely due to "Beverly Hills," Make Believe was the sound of a newborn Rivers Cuomo with his slate wiped clean for better or for worse. His signature sense of humor was mostly missing on the collection, with a series of openly emotional (though the kind of doe-eyed emotion found through prescription pharmaceuticals) mantras only sometimes pared with quality songwriting.
Unfortunately "Beverly Hills" made an impact but only via the dumbing down of Weezer's strengths. Make Believe presents Weezer as a safe and calculated modern rock band.
5. Maladroit (2002)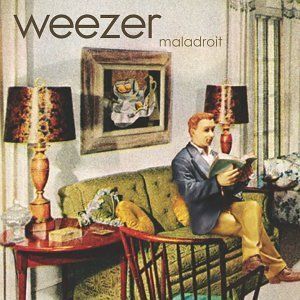 By posting early demos of the songs that would make up Maladroit, their fanbase was already warmed up when this album dropped in spring 2002. It found Rivers Cuomo mussing up the sonic perfection of the Green Album with a series of loud but messy rockers somewhat in dept to the free-wheeling alt-rock of the Pixies or Pavement.
The songwriting is super-sharp while the no-frills production spotlights the chemistry between the players. The quick turn around between the third and forth Weezer albums promised the end of Rivers' hiatus from rock and roll.
4. Everything Will Be Alright In the End (2014)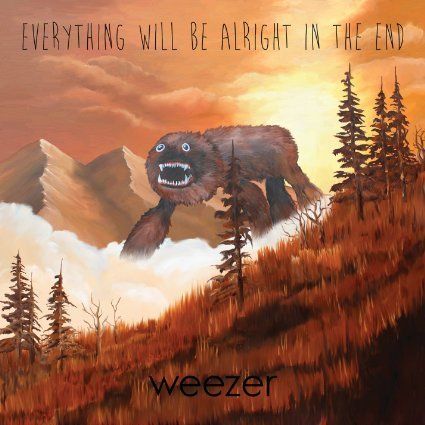 After a series of fair-to-midland efforts, Weezer regrouped with Ric Ocasek for this album, yet it had little in common with the Green Album or the Blue Album, EWBAINT found a razor-focused Rivers Cuomo inspired, opened up and freed of the concise structures of Hurley and Raditude.
Weezer were finally acting their age and working outside the "mall punk" sound to invoke more of a classic rock feel. Songs like "Da Vinci" find Rivers on top of his game, over twenty years into it.
3. Weezer (Green Album) (2001)

After a prolonged hiatus finding Rivers burnt out on the industry, the boys returned (sans Matt Sharp) with a completely streamlined effort with the Green Album.
Flying by in only 28 minutes, once again helmed by Ric Ocasek, the band sounds simplified and chopped down to it's bare essentials: poppy love rock.
No soul searching to be found here just handfuls of Weezer classics like "Island In The Sun," "Hash Pipe" and "Knock Down Drag Out."
2. Pinkerton (1996)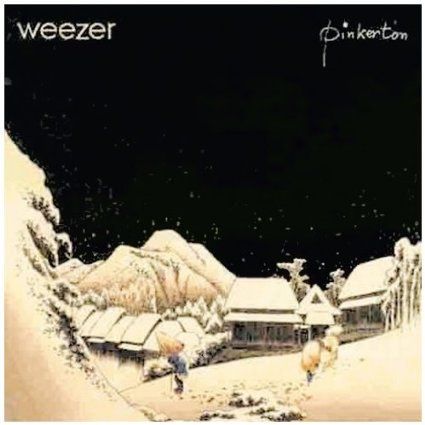 Arguably Rivers Cuomo's finest hour, he turned his back to the pop machine of the debut album with a denser, angrier, lusty collection centered around his unrequiting love due to distance ("Across The Sea") or due to proclivity ("Pink Triangle").
What we got was a "difficult" second album which was only difficult since it followed a note-perfect classic debut.
1. Weezer (Blue Album) (1994)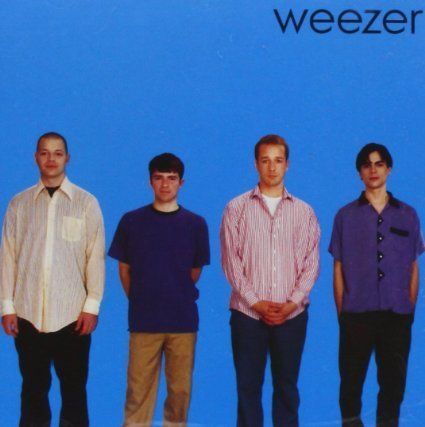 As the grunge movement began to lose steam following Kurt Cobain's passing, a bespectacled, self-proclaimed nerd with the hippy-dippy name Rivers Cuomo came to the scene as a fully-formed songwriting genius. By looking like Elvis Costello and merging Brian Wilson teenage reveries with the simplistic catchy melodies of Kiss, the Blue Album's ten songs already sounded like a greatest hits set.
Giving hope for the 90's without being part of the "slacker" movement, Weezer's Blue Album stands as one of the greatest albums, not only of the 90's but of all-time, creating (for worse or for better) the whole emo-rock subset that would be everywhere by the end of the decade.
For more on Weezer: http://Weezer.com