Empty Lighthouse is a reader-supported site. This article may contain affiliate links to Amazon and other sites. We earn a commission on purchases made through these links.
In May, Nintendo was on the ropes. They had posted another consecutive year of losses, and CEO Satoru Iwata announced his plan to get the company back on track.
Since then, Pokemon Omega Ruby and Alpha Sapphire, Bayonetta 2, Super Smash Bros. for 3DS, and Super Smash Bros. for Wii U have hit the market.
Furthermore, Polygon stated that 2014 was a disaster for the gaming industry but a bright spot for Nintendo. It's clear that, in a time of uncertainty for the gaming industry, Nintendo is thriving as if it's the nineties again.
"It's taken almost two years to get there, but both the Nintendo 3DS and the Wii U are systems you need to own," Polygon stated. "In core properties alone -- the Marios, the Legend of Zeldas and so forth of Nintendo's collection -- 2014 saw the release of games like Donkey Kong Country: Tropical Freeze, Captain Toad: Treasure Tracker, Kirby Triple Deluxe, Mario Golf: World Tour, Mario Kart 8, Super Smash Bros. and Yoshi's New Island.
Together, these eight titles (we're counting Super Smash Bros. as a double dose) were all critical successes."
The Wii U has offered some of the best games of 2014. Look at Bayonetta 2, which received rave reviews from almost every significant media outlet--including Gamespot's seldom-given perfect score.
But the trend has continued; Metacritic has named Nintendo the best game publisher of 2014--citing Super Smash Bros. for Wii U as the company's crowning achievement for the year.
"Nintendo's performance is even more impressive given the fact that it released more unique titles (34) than any other publisher in 2014.
The Wii U and 3DS maker saw its Metascore average increase by 2.7 points in last year (compared to the previous year) even though it didn't have a single 2014 game score as highly as its 2013 leader, Super Mario 3DS World."
But let's not ignore the sales--the thing that keeps companies afloat. Nintendo has dominated in that department as well.
According to VGChartz, Pokemon Omega Ruby and Alpha Sapphire are currently the second best selling games in the world--behind only Grand Theft Auto V.
In addition, the 3DS has sold 50.3 Million units worldwide, which makes it the current top-selling gaming console in the world.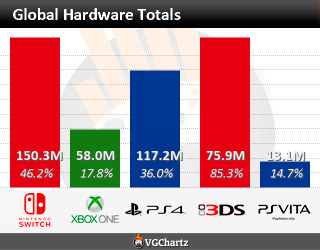 Is Nintendo set to regain dominance of the video game industry? Let us know what you think in the comment section below.