Lucasfilm has now announced the official date for Force Friday 2019. This is not a normal Force Friday because this year you can get merchandise from three Star Wars products.
As announced on StarWars.com, this year will stage a 'Triple Force Friday'.
It will happen on October 4th, 2019 and it will celebrate the release of Star Wars: Episode IX, The Mandalorian TV show as well as the Star Wars Jedi: Fallen Order video game. Details of each have been posted below.
The highly anticipated, final installment of the Skywalker saga, Star Wars: Episode IX
The first-ever Star Wars live-action series, The Mandalorian, set to debut exclusively on the upcoming streaming service, Disney+.
The latest title from EA and Respawn — Star Wars Jedi: Fallen Order — a brand-new action-adventure game releasing holiday 2019
Lucasfilm says you can get products from all three properties ranging from "toys to collectibles, housewares, books, apparel, and more".
All products will be on sale at 12:01am starting on October 4th. Much like past Force Friday events, many retailers will be open late in order for you to get the latest merchandise as early as possible.
In slightly related news, JJ Abrams has tweeted out that filming for Star Wars: Episode IX has finished. You can read his tweet posted down below.
"It feels impossible, but today wrapped photography on Episode IX. There is no adequate way to thank this truly magical crew and cast. I'm forever indebted to you all."
JJ Abrams also posted a photo below with Daisy Ridley, Oscar Issac and John Boyega all hugging each other after filming finished.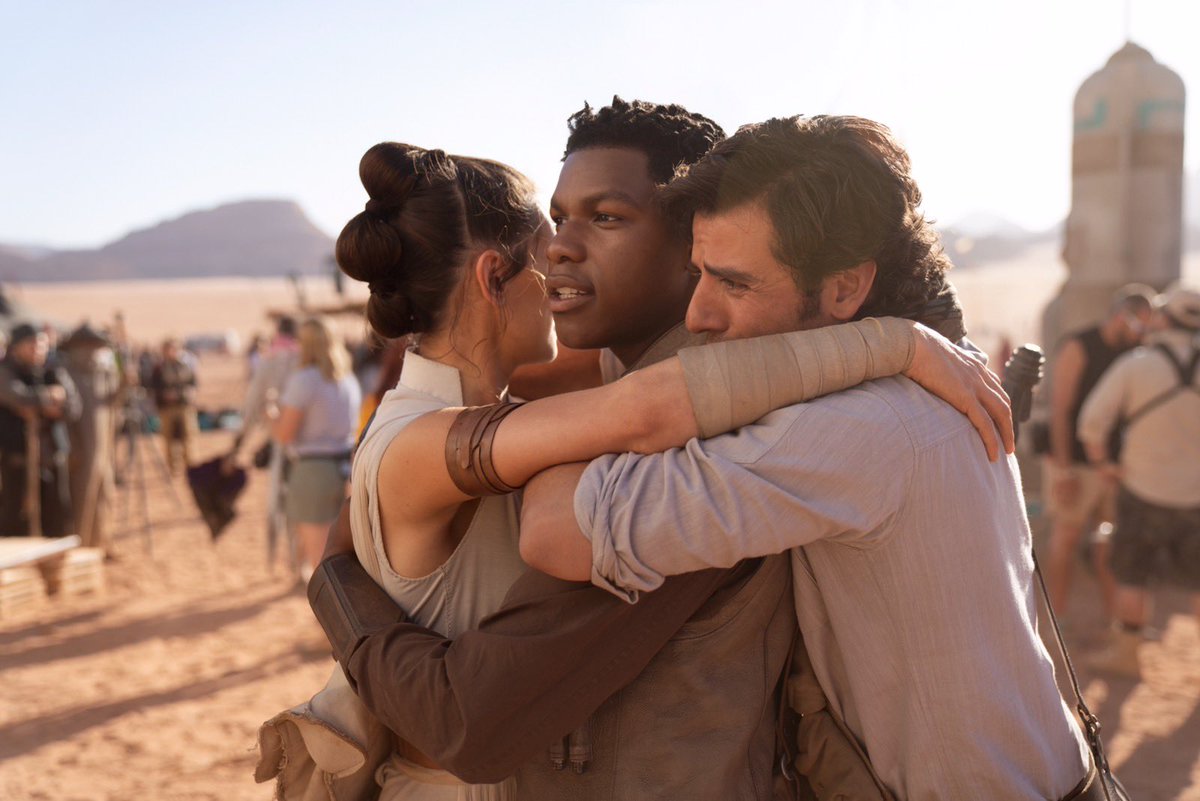 Wanna read more on this? Check these out: Star Wars Jawa & EG-6 Hot Toys Revealed (more); Triple Force Friday Black Series Character Bios Revealed (more); Star Wars Black Series Triple Force Friday Figures Leaked (more); New UCS LEGO Star Destroyer Revealed (more).
And here are some more related articles: Hot Toys Reveals New Sith Trooper Action Figure (more); Epic Star Wars: The Rise of Skywalker Footage Released (more); Star Wars 'The Mandalorian' Trailer Looks Awesome (more).
A few more: Hot Toys Announces New Princess Leia And Ewok Figures (more); Star Wars: The Rise of Skywalker Could Be Over 135 Minutes Long (more).