Empty Lighthouse is a reader-supported site. This article may contain affiliate links to Amazon and other sites. We earn a commission on purchases made through these links.
Welcome to the Empty Lighthouse Travel Website Awards. In this section, we list the winners of the Empty Lighthouse Travel Website Awards for budget or family travel websites.
Although these two categories often overlap, they don't always, so you will find luxury family travel sites into this category.
Each of the websites on this list were selected by our readers for its valuable and enticing content.
Many of these sites also have great photos, as well as tips and tricks.
We urge anyone to take a look at these sites and follow them on Twitter or Instagram, as you'll definitely want to keep up with these bloggers.
Although the Girl About The Globe brand is much more than a blog, the blog itself is amazing. Girl about the Globe has everything needed for solo female travelers.
But it also has plenty of posts about local cultures, travel tours, hotel reviews, and much more. Our readers love the detailed content and tips (with prices and times).
Hayley on Holiday follows an Australian woman who has traveled solo across the world.
Stories about her solo and budget travels around the world and former expat life are quite interesting and inspiring. She also shares useful packing and travel tips, and accommodation reviews to help you make a great plan for your trip.

Lisa and her family travel all over Europe and the world and provide information on planning and preparing for travel with children.
In this blog, this family shares their travel stories and impressions, as well as some useful tips and recommendations to help other families to travel with their kids.
Our readers liked the interesting experiences that you don't read about elsewhere, like renting a boat to travel the canals of France for a week.
Want travel tips for kids directly from kids? This excellent blog follows a family's world travels, and even includes comments and ideas from their teenage children.
There are some great luxury reviews, as well as tips on camping and budget travel.
With great advice on family-friendly travel and amazing nature and family photos, this blog is a fantastic resource if you are thinking about your next trip.
Stephanie is a Canadian girl, passionate about traveling, hiking, and wildlife. She enjoys both traveling the world and discovering her local area.
On her blog, she shares stories and impressions about destinations that she has visited. There are great photos, reviews, and tips for places from Iceland to Cuba.
Families Go has articles on how to travel with family to some amazing places.
Ever wondered what it would be like to cruise to Cuba with children? This blog will tell you what to watch out for, and what to make sure you do! Our readers loved the fact that Eileen is able to provide in depth content on so many different destinations.
Daisy created this blog to write about her family travel experiences and to inspire others to discover new places with their kids.
As a mother of three, she knows everything about planning trips, packing, and and all of the complexities of family travel. She shares lots of helpful travel tips, guides, and reviews.

This site is all about adventure -- backpacking, "dark tourism" and more. There are hostel and hotel reviews, sport reviews (skiing, surfing, etc), and more.
You'll be hard pressed to find another blog that has as much in depth detail about going on safari in Namibia with kids -- but this just one of the many adventures detailed in TraveLynn Family.
If you're a true adventurer, and you don't want to stop your adventures because you have little ones, this is the blog for you. It has great details and tips, as well as amazing pictures and reviews.
Jetlag and Mayhem has plenty of reviews, tips, and tricks for traveling with kids. Here you can find planning tips, packing lists and flight reviews. Especially useful are the reviews of premium cabin flights with kids.
Matt Burns is an award-winning blogger who is traveling around the world slowly and shares his exciting experiences with the followers.
His stories are mostly about beautiful destinations in the North and Central America, and New Zealand. He provides also travel tips and blogging tools and resources.
Looking for excellent tips from people who have actually traveled the world with kids? This is the place to go. Our readers loved the printable packing lists, and concise information on flying with kids, traveling while pregnant, and more.
Piccolo Explorer is a family travel blog created by Cindy, an American living in London with her family. She shares their travel adventures around London and all over the globe.
Our reader loved the reviews of airlines, hotels, museums, and attractions. As a mother of two little kids, she also provides a lot of useful tips for traveling with young ones.

Sarah Knight shares her passion for traveling the world with her husband and three boys.
This blog is a resource for parents to find the best family-friendly destinations, places to visit, ideas for activities and much more. It covers interesting destinations all over the world.
The blog is about family life and travel with small kids.
You can read about the UK and worldwide destinations, itineraries, product reviews and travel tips. Our readers loved the cool destinations, where you rarely think to travel with kids, such as the desert of Jordan.
The Greek Nomads are Christos and Marianna, a couple living to travel and explore the world. They are discovering great places while traveling across Europe and North America. They share their unique experiences and excellent budget travel tips.
Wandermust Family are family travelers who travel both around the UK and abroad. Their blog is all about their experiences in many destinations around the world.
There are also many great tips and travel inspirations to other families. We weren't sure whether to put this in the luxury category or the family category, since the blog is about high end family travel.
One Tiny Leap is a family travel blog about a family who is on their dream trip through the United States, New Zealand, Australia and Japan. They enjoy visiting beautiful places, meeting interesting people, and learning about different cultures.
Here, you can read about their adventures and impressions, see nice photos, and find inspiration to start exploring the world with kids.

Jekaterina is a young woman from Estonia travels solo around the world.
Her blog, Get Lost Be Free, follows her adventures to marvelous destinations around Europe and Asia. She shares her impressions about people, cultures and food, beautiful photos and travel tips trying to inspire others to go all over.
The Tin Box Traveller is a blog created by Claire, a mother of two. Her family travels throughout the UK and EU. This award winning blog has plenty of trip ideas, tips, and excellent reviews. Our readers loved the caravanning (or camping trailer, for us Americans) guides.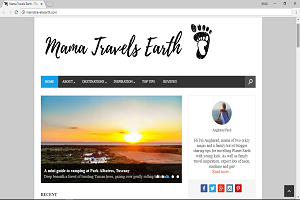 Mama Travels Earth is founded by Angharad, a mother of two and travel lover.
She shares her travel with kids experiences, providing useful tips and reviews. You will enjoy her inspiring stories about destinations in Europe and worldwide, as well as beautiful photos.
Wayfarer's Corner is a travel, photography and lifestyle blog created by Bikram Jeet, who loves traveling and taking photos.
We weren't quite sure whether to put this one in luxury or family/budget travel -- but it's definitely an amazing blog worthy of note.

Extraordinary Chaos is a high end family travel blog about travel experiences with kids.
The family travels to places like Dubai and the Greek islands, posting great pictures and descriptions along the way. There are reviews of hotels and tips too.
Suitcases and Sandcastles teaches you how to make travel and culture fun -- whether you travel with or without kids.
The site includes interesting family travel stories, city guides, helpful reviews and tips, and travel ideas that will inspire you to plan a new adventure for your family.
This interesting blog is about a campervan named Otis and his family.
The blog follows the family as they travel around Europe, sharing their travel stories and fascinating photos. Here you can find helpful tips, ideas for places to visit and have fun, travel products reviews and much more.
This blog is created by a couple who traveled around the world and didn't stop after having kids.
They learned how different traveling with a baby and kids could be and decided to write travel guides specifically for parents traveling with a baby.
This site provides excellent information like a list of parks to take a baby in each city.
Juggling on Roller Skates is all about the travel and outdoor adventures of the Holland family. Whether they are camping in the neighborhood or traveling overseas, they enjoy exploring new places, providing tips and advice.

If you're traveling to Canada, this is the blog for you. It includes everything you need to know about discovering parts of Canada, including places, accommodations, and events.

This blog is all about travel adventures, fitness, health, and beauty. It has some great tips and tricks to help any budget -- and not-so-budget traveler.
Family blog Pigeon Pair and Me covers family travel. Nell, the editor and mother of two, shares her family adventures from the neighborhood or faraway places, travel tips and also lifestyle, fashion, toys, and books.
Looking to travel in Greece with kids? Dreamista is a bilingual English/Greek travel blog about Anna's family adventures. The family travels with twin boys and share their experiences, travel product and hotel reviews and useful tips.
Giselle and Cody are a couple from Canada who love to travel and write about their experiences. They are also vegans and give tips on how to be vegan on the road.
Wanna read more on this? Check these out: Road Tripping Tips for this Thanksgiving (more); Looking To Travel Over The Holidays? Europe May Be The Place For You (more); Why Asia Should Be Your Top Destination This Winter (more); Cruising: Do's and Dont's (more).
And here are some more related articles: Scared of Flying? How to Relax and Fly Like a Pro (more); Maintaining a Healthy Lifestyle by Picking Travel Destinations (more).